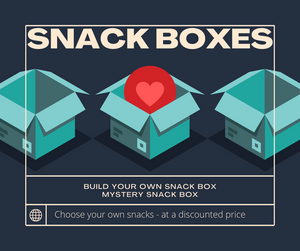 Snack Boxes
---
Now presenting, EXCLUSIVE SIGNATURE SNACK BOXES. 
Choose from either of the two:
Mystery Snack Box: We will curate a personalized snack box for you, containing any 17 snack packs of our choice! (Mystery Snack Box will have a value of Rs. 5500 or more - so you end up getting more snacks than what you actually pay for!)
Build your own snack box: Want to have a greater degree of customization? Curate your OWN snack box, on your OWN terms. Does it get any better than that?
Order now, and get your snacking needs covered - for a WHOLE month!